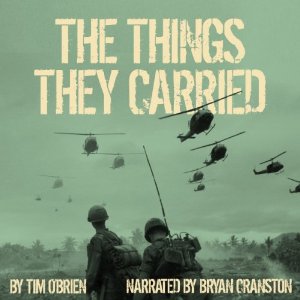 A little while back we had our frequent visitor Bryan Cranston in the studios here are Double R to work on a very special project – we were recording a large chunk of Tim O' Brien's now classic collection of semi-autobiographical Vietnam War short stories for Audible! The release of this fantastic audio book has finally been announced, so we can share it with everybody!
From Audible:
This modern classic and New York Times best seller was a finalist for both the 1990 Pulitzer Prize and National Book Critics Circle Award and has become a staple of American classrooms. Hailed by The New York Times as "a marvel of storytelling", The Things They Carried's portrayal of the boots-on-the-ground experience of soldiers in the Vietnam War is a landmark in war writing.

Now, three-time Emmy Award winner Bryan Cranston, star of the hit TV series Breaking Bad, delivers an electrifying performance that walks the book's hallucinatory line between reality and fiction and highlights the emotional power of the spoken word.

The soldiers in this collection of stories carried M-16 rifles, M-60 machine guns, and M-79 grenade launchers. They carried plastic explosives, hand grenades, flak jackets, and landmines. But they also carried letters from home, illustrated Bibles, and pictures of their loved ones. Some of them carried extra food or comic books or drugs. Every man carried what he needed to survive, and those who did carried their shattering stories away from the jungle and back to a nation that would never understand.

This audiobook also includes an exclusive recording "The Vietnam in Me," a recount of the author's trip back to Vietnam in 1994, revisiting his experience there as a soldier 25 years before, read by Tim O'Brien himself.

The Things They Carried was produced by Audible Studios in partnership with Playtone, the production company run by Tom Hanks and Gary Goetzman, and creator of the award-winning HBO series Band of Brothers, John Adams, and The Pacific, as well as the HBO movie Game Change.
The Things They Carried, narrated by Bryan Cranston, is scheduled to be released by Audible October 15th, 2013. Below you can check out some photos of Mr. Cranston recording in Studio b at Double R Studios & Production.